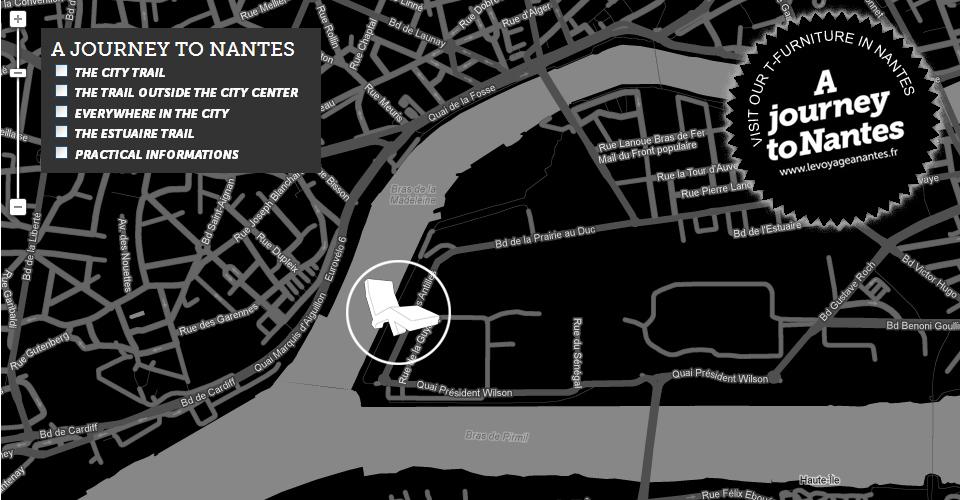 WUDTHiNG A GOOD THING to deliver entire T-Furniture Collection for 'La Cantine du Voyage" location in Nantes (Festival Le-Voyage-a-Nantes)
WUDTHiNG is proud to annouce that it has been selected by the organisers of the "Voyage-a-Nantes" Festival to deliver the entire T-Furniture collection for the festival location at the LC Club in Nantes. The furniture will arrive to Nantes at the end of May and will be exhibited until September.
LOCATION
LA CANTINE DU VOYAGE
1Ile de Nantes - Quai des antilles - 44200 Nantes
During this year's "Voyage a Nantes" new artwork will be shown in the middle of public space in the French City of Nantes. There will among other activities visual interventions, festive places and temporary exhibitions. WUDTHiNG has been selected to provide its T-Furniture for the terrace restaurant in front of the LC CLUB.
More info about this festival can be found on the Voyage-a-Nantes Website: "Le Voyage à Nantes is a 8,5 km urban tour, from the SNCF train station to the western point of the Isle of Nantes. On your way, let yourself be guided from one artwork signed by a today's great artist to a remarkable element of our heritage, from « inevitable » destinations to unknown treasures, from a historic alleyway to a contemporary piece of achitecture, from a stunning point of view of the city to a sunset on the estuary…
On the whole, there are about thirty stops, from East to West, joining to create a sensitive and poetic tour : Le Voyage à Nantes is all the multiplicity and the uniqueness of a scattered monument."